Fremantle Hospital Accommodation
Find Hospital Accommodation near Fremantle Hospital

Fremantle Hospital
08 9431 3333
08 9431 2009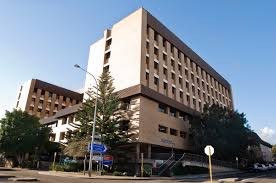 Hospital Type
Public
Number of Beds
200–500
Fremantle Hospital Address
Alma Street, Fremantle, Western Australia, Australia
Description

Fremantle Hospital and Health Service is a major provider of quality health care for people in Perth's south-western suburbs and is part of the South Metropolitan Health Service (SMHS) (external site) hospital network.
Fremantle Hospital is a 300-bed specialist hospital, focused on providing high-quality aged care, mental health, secondary rehabilitation, planned surgery and specialist medical services.

Our services include:

aged care – geriatric and rehabilitation services

critical care – intensive care unit to support elective and planned surgery

elective surgery – general surgery including elective and short-stay procedures, plastic surgery (hand procedures), vascular surgery, orthopaedic surgery, anaesthesiology and pain management services and ophthalmology

general medicine – for inpatients and outpatients, endocrinology, inlcuding diabetes clinics, sexual health services and gastroenterology

mental health – inpatient and community mental health services for adults and older adults

rehabilitation services – general and ortho-geriatric rehabilitation

other outpatient and inpatient services – pathology, radiology and pharmacy service.

View All
Services available at Fremantle Hospital
Acute renal dialysis unit, Cardiac surgery unit, Coronary care unit, Diabetes unit, Geriatric assessment unit, Infectious diseases unit, Intensive care unit, Maintenance renal dialysis unit, Major plastic or reconstructive surgery unit, Oncology unit, Paediatric service, Psychiatric unit, Rehabilitation unit
Staying for 28 nights or more? Corporate Keys has a selection of 1, 2 & 3 bedrooms options at up to 40% of the cost of serviced apartments & hotels.
Hospital Accommodation near Fremantle Hospital
ENTER YOUR DETAILS FOR LIVE RATES AND AVAILABILITY
Map of Short Stay Accommodation near Fremantle Hospital