Mildura Base Hospital Accommodation
Find Hospital Accommodation near Mildura Base Hospital

Mildura Base Hospital
03 5022 3333
03 5022 3228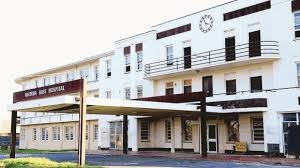 Hospital Type
Public
Number of Beds
100–199
Mildura Base Hospital Address
Ontario Avenue, Mildura, Victoria, Australia
Description

Mildura Base Hospital is a 146 bed (level 1) tertiary teaching Hospital. The Hospital was built by Ramsay Health Care in a contractual arrangement with the Victorian Government. Mildura Base Hospital provides public hospital services on behalf of the Victorian Government to the Community of Mildura and the Sunraysia District.
The hospital provides a range of Acute Services including Emergency, Maternity, Intensive Care, General Medicine and Surgery, Medical Imaging, Pathology, Dialysis, Mental Health (Inpatient and community services) and a range of Ambulatory Services.
Mildura Base Hospital is affiliated with Monash and La Trobe Universities for the provision of undergraduate and postgraduate Medical, Nursing and Allied Health education. Affiliations also exist with other universities for clinical placement and training.
View All
Services available at Mildura Base Hospital
Coronary care unit, Domiciliary care unit, Emergency department, Geriatric assessment unit, Hospice care unit, Maintenance renal dialysis unit, Obstetric services, Oncology unit, Paediatric service, Psychiatric unit, Rehabilitation unit
Staying for 28 nights or more? Corporate Keys has a selection of 1, 2 & 3 bedrooms options at up to 40% of the cost of serviced apartments & hotels.
ENTER YOUR DETAILS FOR LIVE RATES AND AVAILABILITY