Mosman Private Hospital Accommodation
Find Hospital Accommodation near Mosman Private Hospital

Mosman Private Hospital
02 8968 6000
02 9960 3997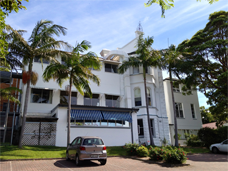 Hospital Type
Private
Number of Beds
< 50
Mosman Private Hospital Address
1 Ellamatta Avenue, Mosman, NSW, 2088, Australia
Description

Mosman Private Hospital was originally built as a three-storey stone mansion for Captain Edmund Mawney Sayers in 1870, named 'Ellamatta'. In 1948, the mansion became All Saints Church of England Hospital, with operating theatres established in 1960. In 1969, the hospital came under the direction of the Mosman and District Community Health Service. Mosman Private Hospital was acquired by Healthscope in 2003 and the Mood & Anxiety Disorders Unit was established in 2005.
At Mosman Private Hospital, we expect our nursing staff, health professionals and accredited private specialists to contribute to the provision of the highest standards of care for our patients. From the moment they enter our hospital, all patients receive the best possible care. All patient requests are paramount to us, and we will endeavour to comply with your needs.
Mosman Private Hospital is fully accredited by the Australian College of Healthcare Standards (ACHS) who work with us in establishing standards and procedures, which underpin our primary goal to contribute to the provision of the best quality of service and care in collaboration with accredited private specialists.
View All
Services available at Mosman Private Hospital
Hospice care unit, Psychiatric unit
Staying for 28 nights or more? Corporate Keys has a selection of 1, 2 & 3 bedrooms options at up to 40% of the cost of serviced apartments & hotels.
ENTER YOUR DETAILS FOR LIVE RATES AND AVAILABILITY