Top Tips for helping your pet move in
Published in Pets on March 04, 2020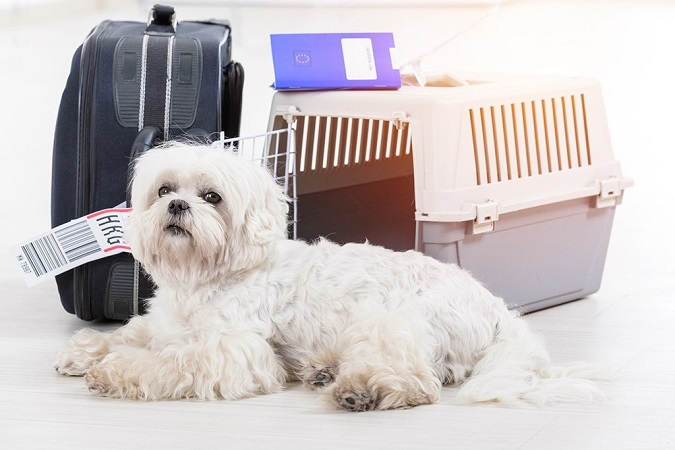 Most people find moving to be stressful because of the many things we have to sort out. However, it's not just humans who dread moving. Our pets also get a little stressed out when moving because they can feel terrified and confused about their sudden new environment. To help them with the transition, we must prepare a couple of things for our pets. Here are a few steps that you might want to consider for each stage of the move.
Prior To The Move
Learn More About The New Neighborhood

To avoid unwanted surprises, you must do a bit of research on the new neighborhood that you're moving into. It's crucial that find out if certain local laws might affect or involve your pet such as breed bans, leash laws, and license-related matters. If your current veterinarian is located far away from your new place, then better look for a new vet as soon as possible. If you can, schedule an appointment in case there are new vaccinations that your pet needs or other medications that they need before moving.

Updated Identification

Considering that you're changing your address, it's only smart to update the information on their ID tag. Don't forget to include your pet's name and your latest mobile number. If they haven't been microchipped by the vet yet, then that's something you have to accomplish before you change houses. Doing this step ensures that your dog will be returned to your new place in case they get lost.

Packing Your Things

It's common for pets to get anxious every time you whip out your luggage because they might associate it with previous trips that they weren't too happy about. By the time your whole house is packed up, your pets may be triggered by it. To avoid such an occurrence, put out a few boxes to help condition them.

Get Them Ready

If your new home is not too far away, then make sure to walk your pet around the neighborhood so they can be familiar with the place. Before completely changing residences, allow your pet to get used to the new environment by bringing to other similar places. You can even simulate new sounds as well. Also, if there are any restrictions or rules that involve your pet's behavior, then you must train them ahead of time so they can get used to it. For example, you can teach your dog to not make too much noise or to have a bathroom schedule.

While Moving

Reduce Their Anxiety

Decide on what you think is best for your pet to help with their anxiety. Some pets are better off staying at a friend's or family's house while you're busy transporting and organizing your belongings. Other pets might be too clingy, so it can be better for them to be around you while you're packing and unpacking. If you know that they'll create a mess, then be sure to restrain them on a leash or cage.

Pack Their Faves

Moving to a new place may inspire you to replace all your old things, including your pet's belongings. However, this isn't a good idea since it can only contribute to your pet's anxiety. Instead, bring along their old bed, crate, blankets, bowls, and towels so they can relax a bit since these are the items that they're familiar with and that carries the smell of your previous home. Don't forget to bring their favorite toys and food as well.

Take Breaks Between Tasks

Of course, you want to finish all the packing, transporting, unpacking, and organizing drama as soon as possible, but it won't hurt to take a few breaks from time to time. During this period, make sure to check on your pet and play with them if possible. Take them out for a nice stroll at nearby trails and dog-friendly parks.

Make Sure Your Pet is Safe

The actual move might be too overwhelming for you but you shouldn't completely neglect your pet to the point that their safety becomes endangered. Make sure that during the car ride, your pet is properly strapped and has ventilation. Upon arriving at the new location, keep them secured in a spot where there won't be any dangers such as falling items. If you have time, check out Joan Mayer's moving tips.

Following the Move

Pet-friendly Environment

Make your new home pet-proof by removing all potential hazards to their safety. For homes with fences, figure out a way that your pet cannot escape and use gates when necessary.

Also, create a spot specifically for your pet where they can rest and nestle. Soon enough, they will be able to adjust to the new environment.

Follow Your Usual Schedule

Don't stray away from your typical routine with your pet. Follow your normal time for playing, feeding, sleeping, walking, and cuddling. To support this, the setup of your pet's new spot should also be somewhat similar to the one at your previous home.

Keep Your Patience

Help your pet to slowly discover the new neighborhood. Be patient with their adjustment period. The behavior of your pet might change such as their toilet habits, pacing, barking, eating, and protection behaviors. However, all of these temporary changes are considered normal. In case they develop bad behavior, you can always seek help from a vet or trainer.

Love Them Nevertheless

Go above and beyond to make your pet feel at home in the new place. Allow them to enjoy the new features of the home and neighborhood such as by playing with them in the backyard. Promote mental stimulation by hiding treats around the house. More importantly, give them as much love and attention they can possibly get once you finally settle in.