Family on-site accommodation unveiled at Perth Children's Hospital
Published in General on November 12, 2018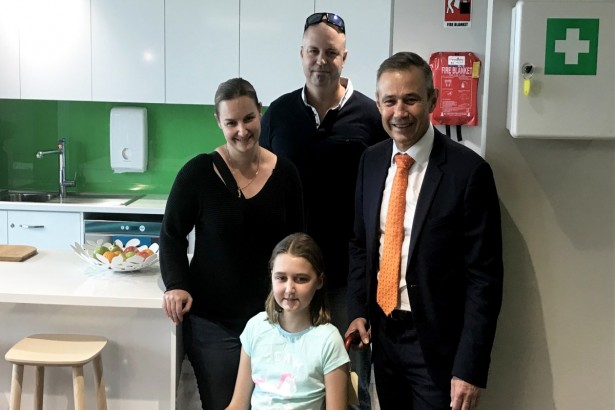 In a new first, the families of children that will be needing emergency treatment at Perth Children's Hospital will have full access to a new on-site accommodation, so that they will be much closer to their loved ones during their difficult time.
The Health Minister, Mr. Roger Cook recently announced the purpose-built facility will be open on June 10th, and strictly for the families of children coming from remote or rural areas for emergency procedures.
The brand-new accommodation is complete with 12 double bed rooms and en-suite bathrooms, a communal lounge, full serve kitchen and dining facilities, as well as a quiet room with entertainment and two computer stations. The whole project will be managed by the Ronald McDonald house.
Two of the suites are also readily equipped to help patients with the transition from hospital to home, and parents who aren't allowed to sleep in the same room of their sick loved ones due to complications will also have full access to the facility.
12-year-old Tamiya Lovell was flown down two weeks ago for emergency cancer treatment and said, first hand that the new facility is "absolutely beautiful".
"I'm a long way from home and when I got off the plane I was really sick," she said.
"I've loved seeing the rooms and the rest of the facility; it's been planned really nicely."
Mr. Cook said that the new accommodation was a much simpler way to help ease patients into the transition of coming and going to the hospital. It also offers more variety, as the existing Ronald McDonald house will still be optional, with 47-beds in a proximity to the hospital.
Mr. Cook stated that while the Ronald McDonald House is still available for use, it will be used for more longer-term patient stays, and for people coming for outpatient and ongoing treatment.
The new facility will be mostly dedicated towards parents that have children dealing with critical illnesses at the early stages of the hospital visit, and as they're transitioning out of the hospital after care.
"No family wants to have to use this facility but if they do, it offers a home away from home to parents and caregivers in an already stressful situation", Mr. Cook said.
The new facility caters to every need that parents and their children should have during such a difficult time. The original in-patient rooms treated everyone as an individual, now the new in-patient rooms have parent beds and children beds, and can house more than one parent, with a child close to the bedside.