New Royal Adelaide Hospital: How NRAH differs from old RAH, with new models of care, advanced technology
Published in General on March 18, 2019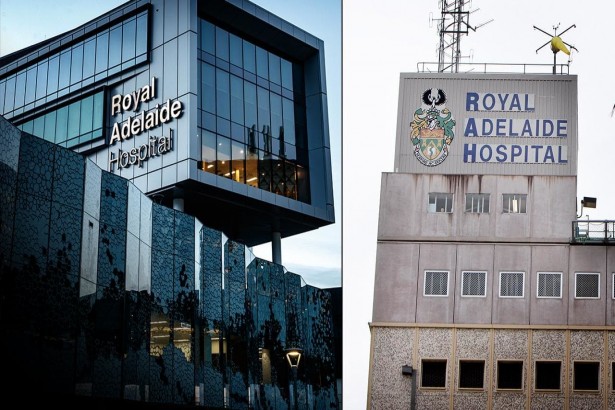 The new Royal Adelaide Hospital isn't simply an update of the original version from 1840. Sporting a 2.3-billion-dollar price tag, this beloved hospital has taken its roots from the past and mixed it with modern technology and techniques to provide all patients the very best for patient care. It's more than worth the cost with extensive new models of care, its usage of natural light and fresh air, advanced technology, and even robotics, all of which are meant to improve patient care overall.
Adelaide has come a long way from 1837 when Dr. Thomas Young, the first Colonial Surgeon, had the idea to found it. On January 12th, he found his first three patients under an old sail, living without food or care. They could only rely on the charity of people passing by.
It took Dr. Young a few years to get his hospital together, but the building finally opened in early 1841 in the parklands. In its early stages, it could only accommodate 30 patients in three wards, including only two rooms for staff and a central room, which was also a dining room and operations room. At that point, there was no kitchen or cook, which may not sound all that surprising, but there weren't even any trained nurses either.
The Royal Adelaide Hospital in the 1960s. Picture: Dick Joyner
As an early hospital, Adelaide quickly became unable to serve the community. Not because it wasn't doing its job, no, but because it was working so well. This hospital which was supposed to help the community for years to come had no more capacity for the growing population after only a decade.
In 1850, a new hospital was built to accommodate all the new patients in the area, right on the old RAH site. Unfortunately, the Victorian gold rush delayed the construction thanks to the economic struggle accompanying the exodus of people.
It took a few more years for the second Adelaide Hospital to be built on North Tce in 1855-56, while the old building was used to house more people in the nearby Lunatic Asylum. The old building continued to be used as the Consumptive Home and Cancer Block before it was closed in 1931. Seven years later in 1938, it was demolished.
Adelaide now had a brand-new hospital, with two wings on the way, multiple rooms, and improved technology. The west wing on its own had eight wards, four on each floor, a central block for surgery, and a dispensary and quarters for the surgeon. This was the original wing and was the only operating wing for about ten years.
The east wing was built in 1866-67 to help even more people with its four extra wards, two on each floor, a few bedrooms and padded rooms, and a nurses' dining room. That dining room was also used as a chapel, a staple in all modern hospitals now.
There were more changes over the years to work with the changing times, some of which have been abolished since then and which truly reflect the atmosphere of the 1800s. For instance, RAH records show that Ovariotonomy Cottage was opened with the sole purpose of removing ovaries from women suffering from "menstrual madness" and nymphomania. Of course, the hospital has advanced in leaps and bounds since then.
Explore the new RAH
The Royal Adelaide Hospital has garnered interest over the years from people like the late J. Estcourt Hughes, Emeritus Surgeon. In his history of the RAH from 1840-1990, he wrote: "When the first Adelaide Hospital was opened, anesthesia was not yet available to medical practice, and when its successor was opened in 1856, Lister's epoch-making work on antiseptic in surgery was still a decade away.
"The discovery of X-rays in 1895 and the continuous advance of radiology and radiotherapy since then have necessitated the installation of equipment for which accommodation has had to be provided.
"Pathology ... has made tremendous advances also, and has demanded increasing space and facilities.
"When the rebuilding of the Royal Adelaide Hospital was under discussion in the 1950s, there were a total of 47 buildings on the site and there were 32 wards in the hospital."
The familiar site of the old Royal Adelaide Hospital emergency entrance.
The RAH continued to operate in the next a hundred years, but really, nothing much had changed. Overcrowding and waiting lists continued to be a problem as more and more people continually sought care. "By 1950, it became apparent that the demands of the hospital had increased to such a degree that the number of beds available was inadequate and that the condition of the buildings and services in the older parts of the hospital were unacceptable by modern standards," Mr. Hughes wrote.
"The length of the waiting lists was also causing concern, and does not seem to have been resolved satisfactorily even today."
There were so many people to accommodate in the area that the hospital once again had to be demolished and rebuilt. In 1963, the RAH was rebuilt again on the same site following the "great demolition." It continued to be popular, which is why there were plans to rebuild it once again in recent years, but these plans were put on hold. Instead, it was decided to build an entirely new hospital on a greenfield site to help more people than it could before.
Currently, the new Royal Adelaide Hospital is opening in a time of new technology and changing medical practices that certainly weren't present in the 1800s. It includes updated technology to work with the aging population, new slews of chronic conditions, high public expectations, and all the usual budget constraints you might expect.
It's so advanced that you wouldn't think that the RAH had gotten its start from an idea Dr. Young had when he saw a shelter under an old sail, evolving into a leaky hut, early dormitory wards, and the old RAH hospital in time.
IN SHORT
LAND
The old RAH is on a 7ha site, with 0.6 ha of green space. This is already fairly large, but the new RAH is made to accommodate more people with a better environment; the new RAH is on a 10ha site, now with 3.8ha of green space.
BEDS
Before, the RAH had 650 overnight beds, along with 30 same-day beds. Now when you visit the new RAH, you'll see 700 overnight beds, each in their own single room. When it comes to making a patient comfortable, this is a huge improvement. All of these rooms even have ensuites, along with a lounge that can be used as a bed for someone to stay overnight. On top of that, there are 100 same-day beds.
All of these rooms are meant to make the rooms as comfortable as possible, with windows that open for some fresh air, light, and views. Just some fresh air makes a world of difference to people who are stuck in the hospital for a while, along with the bedside technology that helps with entertainment and food orders. Patients can see out of these windows easily too since they're made to be low. Of course, there's also a 40-bed Mental Health Unit.
Outside the Emergency ward at the new Royal Adelaide Hospital. Picture: AAP Image/Morgan Sette
EMERGENCY DEPARTMENT
The old RAH was able to treat 59 people using the curtained cubicles, including four resuscitation rooms. Eleven more people can be treated in the new RAH with 70 cubicles, which now have a sliding glass door for more privacy. The number of resuscitation rooms has been doubled to be eight.
Now, some ambulance arrivals will go right past the emergency entrance and directed onwards to triage. This ensures that no one is stuck waiting and that people who need it will receive care as soon as possible.
INTENSIVE CARE
The new RAH now has 60 ICU beds, with quarantine rooms for infectious diseases. This is compared to the old 42 bed ICU capacity.
HELICOPTERS
Before, the RAH could only fit one helicopter on its helipad. Now, the new RAH includes a pad that can fit two.
OPERATING ROOMS
In terms of operating rooms, the improvement has been small, but the new RAH had added five more rooms to give them 40. All rooms remain at 65 square meters at both hospitals though.
Private rooms for patients in the New RAH hospital. Picture: Bianca de Marchi
MRI
With four MRIs in the new RAH, the hospital has now doubled its capacity from two in the previous one, allowing more patients to be checked on at once.
PARKING
Parking is always an important issue in hospitals, especially one as busy as the Adelaide. When you drive up to the new hospital, they've added lots of parking spaces, with 2300 on-site car parks compared to 1440 in the old hospital. Six hundred of the new spaces are dedicated to visitors and patients. With storage for 300 bikes, and tram, bus, and train stops nearby, everyone can easily get to the hospital.
ADDITIONALLY
Beyond the parking and the new and improved technology, the new hospital has been made to be beautiful with 70 internal courtyards, terraces, and gardens. Patients and visitors are able to go through the retail precinct to see the florist, newsagent, hairdresser, gift shop, post office, and even bank facilities. There are cafes everywhere all over the three levels for doctors and visitors, and kiosks to help you navigate if you're feeling a little lost.
Patients are well cared for with "hot lifts" for emergency transfers, along with automated vehicles which will deliver equipment and food using lifts. There's no smoking here either to keep every patient comfortable.
SHINING A GREEN LIGHT ON SUSTAINABILITY
IT'S not just a colour. It's the philosophy behind Adelaide's state-of-the-art medical institution, writes Brad Crouch.
The environment is a key part of recovery for every patient, which is why the windows are low, there are gardens everywhere, and all patients are able to get some fresh air. This is also why the Royal Adelaide Hospital has set new standards when it comes to be environmentally sustainable.
The entire precinct is non-smoking, and staff will help patients who want to talk about quitting. All that 3.8ha of green space, including three wetland walks and an Aboriginal garden, will be completely smoke-free. Take a stroll to check out the five native local species and art by indigenous artists.
Enjoy the fresh air and natural light in the hospital in one of any 70 courtyard, terraces, or gardens. When families are feeling anxious and vulnerable, something so simple can go a long way to creating a relaxing environment. The indoor and outdoor cafes where you can pick up some food and coffee helps too.
That fresh air will be good for both visitors and families, with windows allowing a good view and sunshine keeping people positive. SA Health officials say that the sunshine and fresh air can go a long way, helping one to heal both physically and mentally.
Green space at the new Royal Adelaide Hospital.
All this green space will benefit the staff working on such high-pressure jobs as well. Less reliance on artificial light will be good for the eyes and do wonders for nurses and doctors who are working inside for long periods of time. Especially in the winter, the environment won't feel so gloomy when the winter sunshine peeks in.
Thanks to the acoustic design, a noise will be dampened to help patients relax without the noise of tons of other people around them.
There are even be high-efficiency water fittings in the building which use recycles water for toilet flushing and irrigation. The same efficiency is used to provide heat with on-site generation systems, lowering the usual power bills hospitals have.
The RAH is designed around the concept of "a journey to health," both physically and metaphorically. Not only will patients be able to get on their way to being healthy with new technology and designs, but they will be able to receive clinical care right in their bedrooms and only travel a short distance in the hospital for any treatment.
BY THE NUMBERS
700 overnight beds (including 40 mental health beds)
100 same-day beds
1.6ha internal green space
2.2ha external green space
120 quiet staff workspaces
10 bariatric beds
70+ internal courtyards
1.3 million meals will be served per year
40 technical suites (operating, interventional and procedural rooms)
1800 Automated Guided Vehicles (AGVs) trips each day
4700 doors
500,000t of bulk excavation removed from the site
3000 soap dispensers
4000 fixed phones
550 portable phones
25 Automated Guided Vehicles (AGVs)
2500t of structural steel
300 bicycle parking bays
2300 car parking spaces
50 disabled parking spaces
150 motorcycle parking bays
2 helipad parking capacity
12,960t of concrete
40km of partitioning
25,000t of reinforcing
7x the size of SAHMRI