Bundaberg Base Hospital Accommodation
Find Hospital Accommodation near Bundaberg Base Hospital

Bundaberg Base Hospital
07 4150 2222
07 4150 2159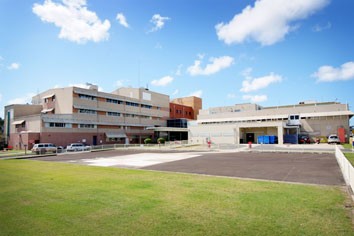 Hospital Type
Public
Number of Beds
200–500
Bundaberg Base Hospital Address
Bourbong Street, Bundaberg Central, Queensland, Australia
Description

Since its establishment on the current site on 9 July 1914, Bundaberg Hospital has grown into the major medical centre of the Wide Bay Hospital and Health Service providing high quality care within an environment of continuous improvement.
In recent years Bundaberg Hospital has undergone a major redevelopment totalling in excess of $50 million. The redevelopment has delivered new beds, improved services in the rehabilitation unit, as well as a new emergency department, maternity unit and special care nursery.
In the coming years, Bundaberg Hospital expects to benefit from the establishment of a new Oral Health facility, Cancer Care Centre and UQ Teaching and Learning Centre.
Services available currently at the Bundaberg Hospital include intensive care, coronary care, obstetrics, gynaecology, paediatrics, orthopaedic surgery, general surgery, vascular surgery, 24-hour emergency medicine, pharmacy, medical imaging, pathology and comprehensive mental health services. Allied Health services include physiotherapy, occupational therapy, dietetics, speech therapy, psychology and social work.
The Bundaberg and Coral Coast region is located approximately 400 kilometres north of Brisbane and is centred on the picturesque Burnett River. The area lays claim to the internationally renowned Southern Great Barrier Reef, Mon Repos Turtle Rookery, Bundaberg Rum, and the famous aviator Bert Hinkler.
The Bundaberg regional offers a superb lifestyle set in a healthy family environment. Residents can access a range of recreational, educational, cultural and sporting facilities. Bundaberg offers a wide range of events and festivals for you to enjoy, as well as a number of other attractions throughout the year.
The Bundaberg region offers a rich experience for those who enjoy the arts. With over 50 arts, crafts, historical and cultural organisations and facilities, the region is fast becoming one of the most dynamic regions in Queensland.
Services
24 hour emergency department, level 4 ICU, theatre and anaesthetics, general medicine, general surgery, gynaecology and obstetrics, special care nursery, intensive care/coronary care, orthopaedics, oral health, orthodontics, pathology paediatrics, renal services, specialist outpatients, rehabilitation, palliative care, medical imaging, breast screening, CHIP services, transition care, Gastroenterology, Radiology, Respiratory, Rheumatology, oncology, paediatric respiratory, genetics, urology, cardiology, cardiac rehabilitation, dietetics, home medical aides, indigenous health, physiotherapy, occupational therapy, pharmacy, school and adult oral health, sexual health, Hep C/HIV AIDS, speech pathology, social work, alcohol and drugs, psychology, paediatric allied health, community adult and family health, stomal therapy, diabetes education, mental health services and mental health inpatient program, hospital in the home.
View All
Services available at Bundaberg Base Hospital
Acute renal dialysis unit, Coronary care unit, Emergency department, Hospice care unit, Obstetric services, Oncology unit, Paediatric service, Psychiatric unit, Rehabilitation unit
Staying for 28 nights or more? Corporate Keys has a selection of 1, 2 & 3 bedrooms options at up to 40% of the cost of serviced apartments & hotels.
ENTER YOUR DETAILS FOR LIVE RATES AND AVAILABILITY