Mareeba Hospital Accommodation
Find Hospital Accommodation near Mareeba Hospital

Mareeba Hospital
07 4092 9333
07 4092 9160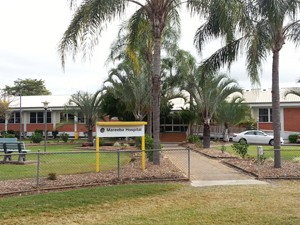 Hospital Type
Public
Number of Beds
< 50
Mareeba Hospital Address
21 Lloyd Street, Mareeba, Queensland, Australia
Description

Mareeba Hospital is a 52-bed Level 3 general hospital with twenty doctors (ten senior, ten junior). We service a population of some 20,000 people in the Mareeba area, including outreach services in Chillagoe, Dimbulah and the Lotus Glen Correctional Centre. Furthermore, Mareeba Hospital hosts specialist outreach services provided by Cairns Hospital.
Our Maternity unit offers an innovative model of care with a Midwifery Group Practice and 24 hour Obstetric cover. The Midwifery Group Practice is a small group of midwives who work together to ensure that women and families receive consistent care throughout pregnancy, labour, birth and during the early weeks after the baby is born. This partnership will support the woman and her family by providing information, preparing for birth and caring for the new baby. The midwives will offer home visiting following the birth and provide postnatal care for 6-8 weeks. The Mareeba Maternity Service also offers a Newborn and Family Drop in Service, Mums and Bubs Group, Childbirth Education Classes and Lactation Consultant Advice.
The established Older Persons Evaluation, Rehabilitation and Assessment (OPERA) unit provides an optimal standard of dedicated geriatric service for at risk older patients admitted to the Mareeba Hospital Sub-acute Unit. The Sub Acute Unit identifies and treats multidimensional problems of at risk older people in hospital. Planning and provision of coordinated medical, psychosocial and rehabilitative care is modified to the patient's specific needs.
Mareeba Hospital is accredited under the Institute of Health Communities Australia Quality Improvement Council (QIC) Standards and Accreditation Program. We are an Accredited Teaching Hospital of James Cook University (Medical and Registered Nursing students) and the Generalist Medical Training (Australian College of Rural and Remote Medicine Provisional Fellows). Moreover, we work with TAFE Queensland in the training of Enrolled Nursing students.
Mareeba Hospital provides videoconferencing on a daily basis to patients in East Ward involving specialists from Cairns Hospital. Mareeba Hospital has also recently established having a regular sonographer onsite and has recently become a pocket SIM training center in conjunction with CSDS.
The first Mareeba Hospital was established in 1894. The current facility was opened in 1980; recent and planned redevelopment works include the refurbishment of all bathrooms throughout the Hospital and upgrade of air-conditioning to the facility. Mareeba Hospital provides 40 modern, recently refurbished accommodation rooms for agency and short term contract nurses and doctors at no cost.
View All
Services available at Mareeba Hospital
Alcohol and drug unit, Emergency services, Obstetric services
Staying for 28 nights or more? Corporate Keys has a selection of 1, 2 & 3 bedrooms options at up to 40% of the cost of serviced apartments & hotels.
ENTER YOUR DETAILS FOR LIVE RATES AND AVAILABILITY