Royal Darwin Hospital Accommodation
Find Hospital Accommodation near Royal Darwin Hospital
Royal Darwin Hospital
08 8922 8888
08 8922 8286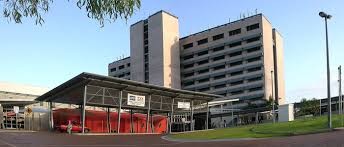 Hospital Type
Public
Number of Beds
200–500
Royal Darwin Hospital Address
Rocklands Drive, Tiwi, Northern Territory, Australia
Description

The Royal Darwin Hospital has approximately 363 beds and more than 1700 staff and provides a broad range of services in all speciality areas to the Darwin urban population as well as serving as a referral centre to the Top End of the Northern Territory, Western Australia and South-East Asia. The Top End population serviced by the hospital is approximately 150,000.
Royal Darwin Hospital is the largest teaching hospital in the Northern Territory and is also recognised as Australia's National Critical Care and Trauma Response Centre. The hospital won international recognition for its role in the retrieval, treatment and transfer of victims of the 2002 Bali bombings. Within 62 hours of the blasts, medical staff had resuscitated 61 patients which included 20 intensive care patients and evacuated 48 patients to burns centres around Australia. Royal Darwin Hospital again treated more than 20 victims evacuated following the second Bali bombings in October 2005 and in 2006 has treated victims evacuated from East Timor.
Partnerships
Royal Darwin Hospital is affiliated with the Flinders University of South Australia and the University of Sydney in NSW. The association with Flinders University allows the hospital to engage teaching staff and thereby enhance its available expertise in wide-ranging fields.

Royal Darwin Hospital also has links with Charles Darwin University to provide teaching and clinical experience for nursing students.

Royal Darwin Hospital participates in research projects in a variety of fields with the Menzies School of Health Research, which is located in the world-class Combined Health Building on the hospital campus.

The hospital's vision is to be recognised locally, nationally and internationally as a centre of excellence for the provision of high quality healthcare to the community and to fulfil its role as the National Critical Care and Trauma Response Centre.

View All
Services available at Royal Darwin Hospital
Acute renal dialysis unit, Coronary care unit, Diabetes unit, Emergency department, Hospice care unit, Intensive care unit, Maintenance renal dialysis unit, Neonatal intensive care unit, Obstetric services, Paediatric service, Psychiatric unit, Rehabilitation unit
Staying for 28 nights or more? Corporate Keys has a selection of 1, 2 & 3 bedrooms options at up to 40% of the cost of serviced apartments & hotels.
Hospital Accommodation near Royal Darwin Hospital
ENTER YOUR DETAILS FOR LIVE RATES AND AVAILABILITY
Map of Short Stay Accommodation near Royal Darwin Hospital