The Children's Hospital at Westmead Accommodation
Find Hospital Accommodation near The Children's Hospital at Westmead

The Children's Hospital at Westmead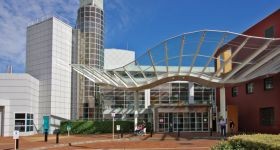 Hospital Type
Public
Number of Beds
200–500
The Children's Hospital at Westmead Address
178 Hawkesbury Road, Westmead, NSW, 2145, Australia
Description

The Children's Hospital at Westmead provides quality care and clinical services to 80,000 sick and injured children each year. It is the largest paediatric centre in NSW and provides excellent care for children from NSW, Australia and across the Pacific Rim. Specialist care is provided to children within a positive, caring and healing environment.
Our clinical expertise, community education, advocacy for improved child health and ground-breaking research into childhood illnesses combine to make The Children's Hospital at Westmead a world-class institution.
View All
Services available at The Children's Hospital at Westmead
Acute renal dialysis unit, Acute spinal cord injury unit, Alcohol and drug unit, Bone marrow transplantation unit, Burns unit, Cardiac surgery unit, Clinical genetics unit, Diabetes unit, Emergency department, Epilepsy centre, Hospice care unit, Infectious diseases unit, Intensive care unit, Liver transplantation unit, Maintenance renal dialysis unit, Major plastic or reconstructive surgery unit, Neonatal intensive care unit, Neurosurgical unit, Oncology unit, Paediatric service, Psychiatric unit, Rehabilitation unit, Renal transplantation unit, Sleep centre
Staying for 28 nights or more? Corporate Keys has a selection of 1, 2 & 3 bedrooms options at up to 40% of the cost of serviced apartments & hotels.
ENTER YOUR DETAILS FOR LIVE RATES AND AVAILABILITY