A Quarter of Heart-Related Hospital Stays Linked to Disadvantage
Published in General on January 14, 2019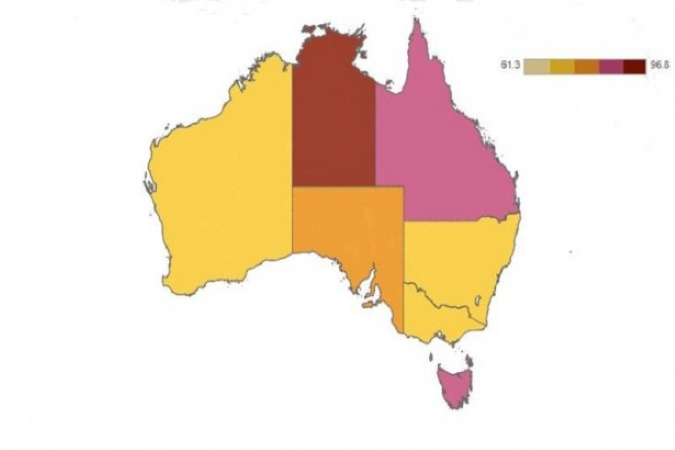 For years now it's been a well-established fact that rates of heart failure can depend not just on your diet, genetics and so forth, but your location as well. This fact has been attributed mainly to socioeconomics more than anything as a person living in a poorer neighborhood might not be able to afford a healthy lifestyle whereas a wealthy individual living in a better off neighborhood would have no problem.
However, research has shown that numerous factors also come into play that creates this region related heart failure phenomenon.
How apparent is this effect? Well, according to the recently updated Heart Foundation Heart Map, it seems that just by living in a remote rural area, your chances of contracting heart disease increases by a staggering 50%.
It's obviously not because of the geography itself, residents living in poverty and rural areas have a greater chance of developing obesity, smoking habits, and drug use. All of which are detrimental to your heart's health, so there really isn't any mystery here as to what exactly is causing this dramatic disparity between regions.
Along with location, it seems that many other unexpected factors, seemingly unrelated to heart health, actually contribute heavily to our nation's rate of heart failure.
Apparently, just by belonging to a marginalised group, your chances of heart disease increases dramatically with Aboriginal and Torres Strait Islander people rates, being increased to 70% more likely than those who are non-indigenous. Again, a testament to how living conditions can affect heart health dramatically.
An even more staggering statistic is that these rates could all drop by a quarter if all Australian communities had the same rates of hospital admissions as the nations more advantaged areas.
In fact, research from the Heart Foundation indicates that by homogenizing admission rates and educating the public to better detect signs of heart failures and be able to bring them to the hospital more quickly, heart failure as a whole would fall 24%. Queensland (containing 12 out of the entire country's 20 worst areas for heart-related diseases) alone would experience an overall 40% decrease in heart failure rates and the Northern Territories experiencing closer to a 70% decrease.
Just isolating these factors on a regional level, the inequalities become even more staggering. The rates of hospital admissions range between 161 heart admissions per 10,000 people in NT Outback and 31 out of every 10,000 people in North Sydney and Hornsby.
It's unsettling thinking that just by living in a certain region, you and your loved ones could have a greater chance of experiencing cardiovascular disease.
The government has started stepping in and has advocated to promote healthy heart health via a number of programs and initiatives put into motion.
"The Heart Foundation believes everyone should have the opportunity to make choices that allow them to live a healthy life, regardless of who they are or where they live," Says Professor Kelly, the Heart Foundation National's CEO.
"We appreciate that the Federal Government is addressing heart health inequity through its funding for Heart Foundation programs such as Walking, which particularly focuses on disadvantaged groups, and the Lighthouse project, which seeks to improve health outcomes by connecting culturally with Indigenous heart attack patients."
Professor Kelly hopes that these programs are just the beginning. It's apparent that much more work needs to be done if the nation wants to see a decreased level of heart failure and heart-related diseases. She further advocates for better education and preventative measures for the government to employ on top of the ones already put into place to better stave off an unsettling increase in the rates of heart disease.
"There are also other ways in which the health system could better address the heart health needs of Australians. This begins with more heart health checks by GPs and preventative health measures."
It doesn't stop with helping ourselves, however, as citizens it's imperative we also do our duty to readily seek out signs of heart attacks and heart failures. Professor Kelly ultimately, wishes the nation to be a better and more heart healthily conscious nation.
"Helping people better recognise the symptoms of a heart attack, and act on them immediately, would result in more people getting to the hospital quicker… greater access to cardiac rehabilitation programs is critical for people who have suffered a first heart attack, especially those in these rural and remote areas, as rehabilitation can help prevent a second heart event."
More education, more resources and better programs. These are what Australia desperately needs to curb these unacceptable rates of regional heart disease. Through the help of the government, organisations such as the heart foundation, and participation from each and every one of us, a heart-healthy Australia can be possible.
Private hospitals like the Epworth have since invested significant amounts of funds in Cardiology. Support and education serviced are also provided upon discharge. Some of their serviced include:
Epworth Richmond includes 52 monitored cardiac beds, a 15 bed intensive care unit, four cardiac catheterisation laboratories and a non-invasive cardiac unit for diagnostic testing.
Epworth Eastern includes a 10 bed coronary care unit with a further 24 monitored cardiac beds, an eight bed intensive care unit and one cardiac catheterisation laboratory.
Epworth Geelong complex care unit includes 8 cardiac monitored beds, a 6 bed intensive care unit, two cardiac catheterisation laboratories and a non-invasive cardiac unit for diagnostic testing.