Older hospital patients - having their cake and eating it too!
Published in General on February 28, 2019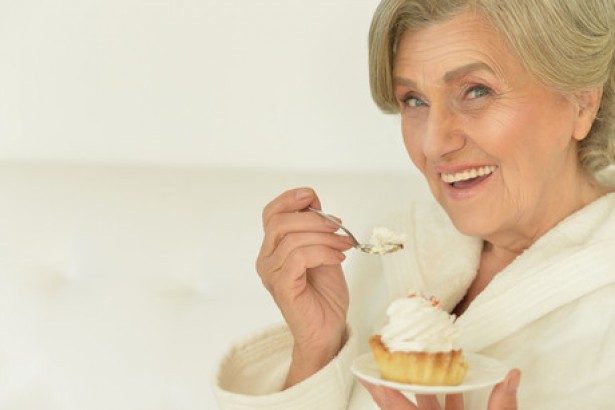 While the hospital is a place where folks go for treatment and to rest and recover, hospital cuisine often falls short. In a nutshell, the hospital isn't a place where people can expect appetising meals.
While younger patients often have the benefit of youth on their side, older patients are not as lucky. Given that most ageing people suffer from poor appetite as well as difficulty swallowing, chances are they are less likely to eat heartily in the hospital. Consequently, this deprives them of much-needed nutrition which in turn slows down their healing.
In the long-term, this compounds the problem of ageing patients being kept back in the hospital which increases the risk of them developing complications.
Fortunately, there is hope at hand as the team at the Royal Brisbane and Women's Hospital has managed to increase the nutritional intake of their patients by a whopping 20%, thanks to a radical paradigm shift.
A long-term approach to nutrition
To improve the quality of meals consumed by their patients in the acute medical wards, the Royal Brisbane and Women's Hospital has undertaken several initiatives. The first amongst these was to introduce high-calorie and high-protein meals as a standard on the menu for older patients.
This meant providing palatable means that are packed with nutrition. Patients can enjoy hot breakfasts, extra desserts, creamy sauces and hearty soups that encouraged recovery.
Along with this, meals were more evenly spaced out for patients. This was done as a means to help older patients who were unable to stomach larger meals cope better. Instead of serving 3 large meals a day, patients could enjoy nourishing and delicious snacks like cheese and biscuits, fruit yoghurt and also a variety of dairy beverages. As an added treat, cake was also added onto the menu.
These changes were met with great enthusiasm by all patients on the ward. To further boost patient satisfaction, initiatives such as 'same day menus', a larger spread as well as a spoken menu system were introduced.
Recognising the fact that improving hospital menus alone was insufficient, a separate program was introduced to ensure that older patients had access to better care. Unfortunately, it is common knowledge that older folks are more susceptible to viral infections and more prone to developing complications in hospitals. In order to combat this, the team at the Royal Brisbane and Women's Hospital put their minds together to introduce the Eat Walk Engage program.
The Eat Walk Engage program is founded on the essence of providing good hospital care for older patients. The core principles of hospital care for older folks are good nutrition, early and regular mobilisation, and healthy activities that stimulate mental activity.
Eat Walk Engage takes into account all of these factors and ensures that patients are well provided for. So far, the results of this initiative are good which can be seen in the decreased amount of time spent by older patients in the hospital. In the long-term, this provides older patients with a much better prognosis as it significantly reduces the likelihood of them developing a new health problem.
A new solution to an old problem
With a greater priority now being placed on mealtimes as part of the Eat Walk Engage initiative, ward staff have rearranged their routines to ensure that the optimum amount of staff are available on hand during mealtimes. This ensures that all patients get the help they need to eat their meals.
In order to do so, staff meal breaks have been changed while other ancillary tasks have been shuffled around to free up more staff. This makes mealtime a more enjoyable part of the day where staff members can spend time and bond with their patients.
To further encourage patients, meals are sometimes brought together to be shared at a communal dining table where eating becomes a much more social experience. Small but meaningful gestures such as adding tablecloths or placing a vase of flowers also help to make mealtimes more enjoyable.
In order to encourage mobility and to help stimulate the minds of patients, patients and their families come together several times a week to enjoy tea together in the patient lounge or garden. This adds some variety to the patients' routines and gives them something to look forward to.
The results have been collected and monitored over a 10-year improvement period and the findings are most encouraging. Now, staff have noticed that the energy intake of patients increased by over 20% on average which comes up to 900kJ or 215 calories. Protein intake meanwhile has risen to 9g each day.
Also, the percentage of patients consuming less than their daily minimum nutritional requirements has been reduced by nearly 50%. Most importantly, the program has been met with universal acclaim by both patients and their family members.
The team at the Royal Brisbane and Women's Hospital attributes their success to the fact that patient well-being was their utmost priority throughout. They took great pains to ensure that all initiatives that were introduced were meant to contribute to improved patient care. Their compassion and dedication to providing their patients with the best enabled them to persevere and remain strong even in the face of difficulty. It goes without saying that their efforts have most certainly paid off as can be seen 10 years later.
How did they make it work
Working together with experts from various disciplines develop ideas that improved patient care
Taking it a step at a time by enacting change sequentially and in increments. This allowed the staff to build their confidence while giving them time to learn from their mistakes
Adopting a more personal approach by listening to their patients and primary caregivers
Using clear, easily-measurable metrics to measure results
Making use of an implementation framework to ensure that common mistakes are avoided
Being patient and persistent in enacting change